The Rusty Cow Cafe
Breakfast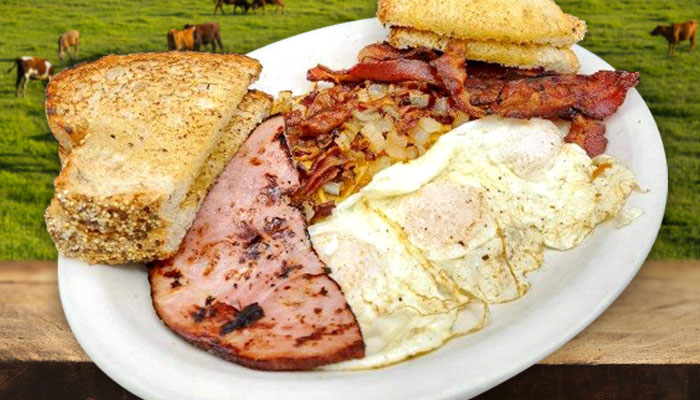 EGGS AND MEAT*
Two eggs your way, choice of bacon, sausage, ham or kielbasa, hashbrowns and toast • 12.49
---
BISCUIT AND GRAVY
Buttermilk biscuits covered in sausage gravy
FULL 9.69 I HALF 7.69
---
HUNGRY FARMER*
Three eggs your way, ham, three pieces of Applewood smoked bacon, your choice of toast, served with loaded hashbrowns (onions, bacon and cheddar cheese) • 15.99
---
RUSTY COW BROWNS*
Hashbrowns loaded with kielbasa, ham, sausage, bacon, cheddar cheese, served with toast and two eggs • 14.99
---
HAMBURGER STEAK AND EGGS*
8oz burger with two eggs, toast, and hashbrowns • 16.99
---
EGGS BENEDICT*
Two eggs cooked medium, English muffin, ham, hollandaise sauce and hash browns
FULL 12.79 I HALF 8.79
---
CORNED BEEF HASH*
Two eggs served with corned beef hash and toast • 12.69
---
COUNTRY FRIED STEAK*
Country fried steak covered in sausage gravy, served with two eggs your way, hashbrowns and toast • 15. 99
---
PANCAKES
One cake • 4. 79
Two cakes • 9.49
Three cakes • 13.49
Add strawberry or blueberry sauce and whipped cream • 3.79
---
BELGIAN WAFFLE
Homemade Belgian waffle • 8. 99
Add strawberry or blueberry sauce and whipped cream • 3.79
---
FRENCH TOAST FRITTERS
You choose from apple, or raspberry. Three fritters dipped in egg and grilled to perfection • 9.99
---
FRENCH TOAST
1 slice • 4. 79
2 slices • 9.49
3 slices • 13.49
Texas toast dipped in our house recipe batter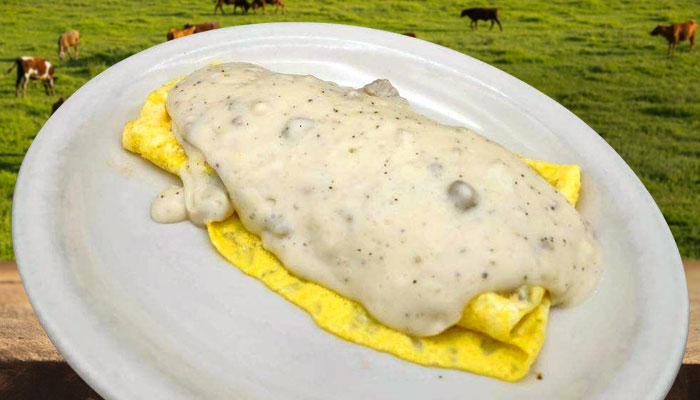 All omelets are three eggs and served with your choice of hashbrowns or American fries.
Upgrade to fresh fruit, one pancake or one slice French toast 1. 99. Only one substitution per order.
Load your potato choice with bacon, cheddar cheese, and onion 3.99
Toast Choices:
Wheat • Sourdough • Rye • English Muffin
AMERICAN OMELET
Bacon, onions, green pepper, tomato, cheddar cheese • 14.99
---
CHOICE OMELETS
You choose one- Ham, bacon, kielbasa, or sausage, and American cheese • 12.99
---
THE TURKEY SHOOT
Turkey, spinach, avocado, tomato, onions, cheddar cheese, hollandaise • 15.99
---
COWBOY OMELET
Sausage, American cheese, hashbrowns inside then covered with sausage gravy • 14.99
---
SCORCHER OMELET
Ham, Applewood smoked bacon, pepperjack cheese, jalapeños, onions, Sriracha, topped with our homemade Sriracha cream sauce • 14.99
---
CHEESE OMELET • 9.99
Choice of American, Swiss, pepper-jack or shredded cheddar.
Add extra cheese •. 99
Add bacon, kielbasa, ham, or sausage • 3.99
Additional meat choice • 3.00
Add mushroom, green pepper, onion, spinach, tomato or jalapeño •.79 Each
Add avocado • 2.00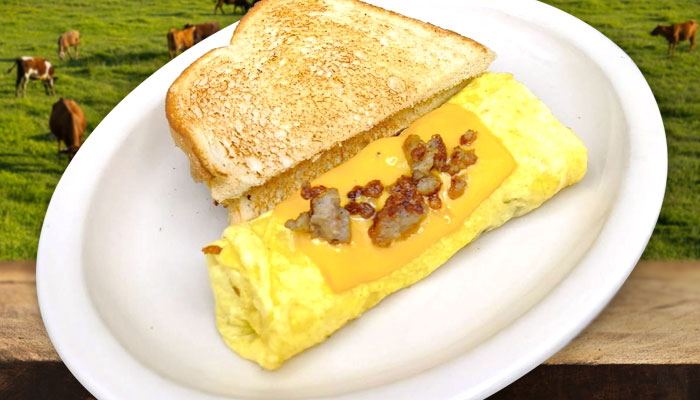 Toast Choices:
Wheat • Sourdough • Rye • English Muffin
TWO EGG OMELETS*
Two egg omelets filled with your choice of bacon, ham, sausage or kielbasa and American cheese, toast • 8.99
Add veggies • .59 each
---
TWO EGGS, TOAST AND HASH BROWNS* • 9.29
---
TWO EGGS, TOAST AND MEAT*
Two eggs, choice of bacon, ham, kielbasa, sausage links or patties, toast • 9.49
---
TWO EGG SCRAMBLE*
Ham, onion and choice of Cheddar cheese or hollandaise sauce • 9.99
The Rusty Cow Cafe
Weekly Specials
Our weekly specials are posted to Facebook on Mondays! Check back every week to see what's new!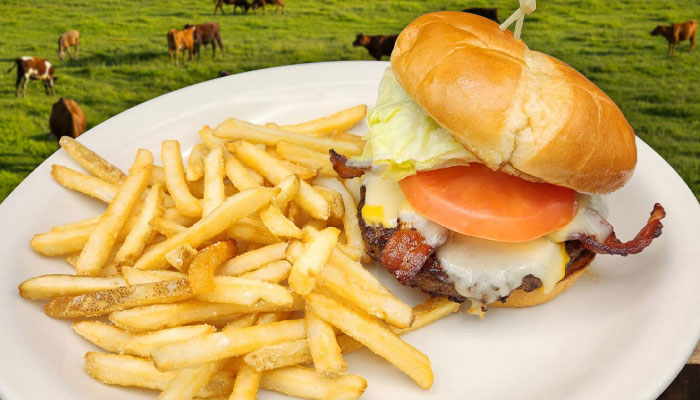 All burgers are fresh and seasoned, served on a bakery fresh bun. All burger are served with fries. upgrade to fresh fruit, waffle fries or sweet potato fries 1. 99. Onion rings 2.50
THE RUSTY COW BURGER*
American and Swiss cheese, Applewood smoked bacon, mayo, lettuce and tomato • 16.49
---
PATTY MELT*
American and Swiss cheese, grilled onions, rye • 14.49
---
ROOSTER BURGER*
Medium cooked egg, bacon, hashbrowns, pepper-jack cheese, spicy mayo • 16.49
---
SHARE CROP BURGER*
Mayo, American cheese, lettuce, tomato, red onion • 15.49
---
TURKEY BURGER*
Mayo, tomato, lettuce, avocado • 15.49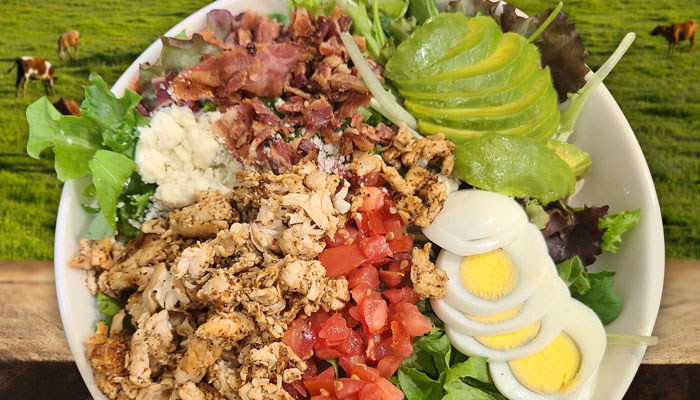 All salads are served with breadstick and your choice of dressing.
All soups and chili are homemade in our kitchen.
Dressing choices: Bleu Cheese, Ranch, Balsamic, Honey mustard, Italian, French.
COW-BELL COBB SALAD
Grilled chicken, Revol mixed greens, avocado, Applewood smoked bacon, tomato, sliced egg, bleu cheese crumbles • 14.99
---
TACO SALAD
Fried flour tortilla filled with lettuce, tomato, green pepper, onions, cheddar cheese, sour cream and salsa
Chicken 15.99 • Beef 13.99
---
SOUP & SANDWICH
Breads: Rye, Wheat or Sourdough Comes with butter lettuce, tomato and your choice of turkey, roast beef or ham • 10.29
---
SOUP & SMALL SALAD
Cup of soup and small salad with Revel greens, diced tomatoes, cucumber and red onions• 8.99
---
HOUSE MADE SOUP
We have a different soup selection every day, Thursday's we have chicken wild rice.
Cup 3.59 • Bowl 4.59
Cup Chili 4.29 • Bowl 6.59
---
DELUXE BOWL HOUSE MADE CHILI
A bowl of house made chili, diced onions, shredded cheddar cheese, crackers, sour cream and breadstick served on the side • 10. 99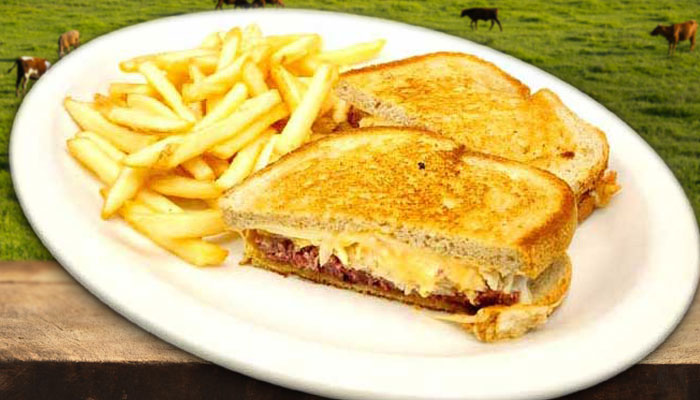 All sandwiches are served with fries. Substitute fruit 1. 99
REUBEN
Corned beef, sauerkraut, Swiss cheese, thousand island dressing, grilled rye • 13.99
---
FRENCH DIP PHILLY
Roast beef, onions, green peppers, Swiss cheese, grilled hoagie, au jus • 14.99
---
HOT TURKEY
Baked turkey snuggled between two pieces of white bread, served with cranberry sauce, mashed potatoes and turkey gravy
FULL 12.99 I HALF 8.99
---
THE SILO SAMMY
Roast beef, Swiss cheese, grilled mushroom, onions, grilled rye • 13.99
---
FRIED CHICKY
Fried breaded chicken regular or spicy, mayo, tomato, lettuce, bakery fresh bun • 15.99
---
TURKEY OR CHICKEN BACON RANCH WRAP
Turkey or chicken, Applewood smoked bacon, lettuce, tomato, warm tortilla, ranch dressing • 15.99
---
THE HOT STEER
Roast beef snuggled between two pieces of white bread, served with mashed potatoes and beef gravy
FULL 12.99 I HALF 8.99
---
TASTY TENDERS
Regular or spicy chicken tenders, fries, Texas toast• 12.99
Try it with our house-made Ranch
---
FISH AND CHIPS
Breaded pollock served with fries , Texas toast and tartar• 12.99
CHEESE CURDS • 8.99
WAFFLE FRIES • 7.99
FRENCH FRIES • 7.99
SWEET POTATO FRIES • 7.99
ONION RINGS • 8.99
All kids meal come with a drink of choice • 7.99
Cow Pie
Chocolate chip pancake with whipped cream
---
Lil' Farmer
Egg, choice of Bacon or sausage link, toast
---
Lil' Dipper
Choose 1: Apple or raspberry with syrup and fruit
Kid Strip
One chicken tender, fries, dipping sauce
---
Kid Fish
One piece of breaded pollock, fries, tartar sauce
---
Kid Grilled Cheese
Sourdough, American cheese, fries